CTS
Regalia
The regalia of the Community of the Tonsured Servant (CTS) is derived from the symbolism of Celtic religious orders such as the monastic community to which Gilchrist, our progenitor, belonged, and not from orders of chivalry. It consists of three elements:
The Medallion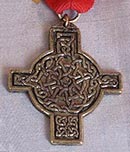 The design of which is derived from the reverse side of the monumental MacMillan Cross at the Kilmory Chapel in Knapdale, Scotland. It is an equilateral gold cross engraved with an irregular Celtic knot-design. Both men and women companions wear it with formal attire, hanging from a one inch red ribbon around the neck, or on the left breast pocket with other decorations, suspended from a short red ribbon.
The Sash
At right, worn by CTS Chaplain, Rev. Chris McMullen - a two inch wide red ribbon, approximately six feet long (depending upon the height of the wearer), is worn, deacon-wise, over the left shoulder and joined at the right hip from which a gold tassel is suspended. Ladies wear the sash over their gown & under their tartan sash, if such is worn. Men wear the sash under a conventional jacket - kilt or otherwise - or over a doublet. The sash is worn only at formal events, with appropriate clothing.
The Badge

Adapted from a design incorporating a St. Andrew's Cross. It has rays emanating from between the arms of the cross, to the four points of the compass. The cross is silver and is surmounted by a MacMillan belted crest of gold with a red background. The belt is Inscribed with the clan motto, Miseris succurrere disco, "I learn to help the distressed". The badge is worn by men on the left breast pocket of the jacket or doublet, beneath military or civil decorations. Ladies wear the badge at a comparable place on their gowns, or on the red sash of the community.