Introduction

to Community of the Tonsured Servant.

Clan MacMillan's "Community of the Tonsured Servant" (CTS) was founded in 1995 by Rev. Canon A. Malcolm MacMillan. Blanche McMillan took over the leadership of CTS in 1997. It was established to support the Chief of Clan MacMillan and the Clan MacMillan International Centre (CMIC) at Finlaystone, Scotland, and to provide educational materials and events for Clan MacMillan and Sept members around the world.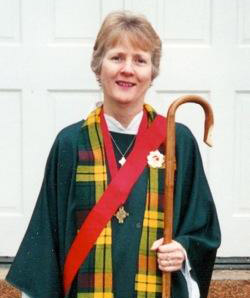 Becoming a member of CTS will open a door of adventure for you and a connection with MacMillans around the world. CTS Investitures usually take place in conjunction with Clan MacMillan Gatherings held around the world. There have been 26 CTS Investiture Services with at least one each year since the founding in 1995 with the exception of 2004, 2006 and 2013. There were 3 Investiture Services in 1997 and in 2001. CTS has held Investitures in several historic buildings in Scotland: Dunkeld Cathedral (c.1114), Perthshire, in 1996; Finlaystone House (c.1393), Renfrewshire, in 1996 and 2002; St. Ninian's Priory/Cathedral (c.397) at Whithorn, Wigtownshire in 2000; and in Iona Abbey (c.563), Isle of Iona, Argyllshire, in 2002 and in the ancient Kilmory Chapel, Knapdale, Scotland, which houses the famous MacMillan Cross from c.1480. There have been many services in the USA and Canada in a variety of MacMillan-connected country and city churches and other venues.
Browse the CTS pages including an invitation by Chief George MacMillan, an overview of the CTS, officers and Companions, CTS regalia and consider this your invitation to join with fellow MacMillans in support of your Clan and your Chief. Joining will put you in touch with the global Clan, provide interesting and adventurous trips to attend Clan MacMillan events where you can meet your extended MacMillan family.
Blanche McMillan, Abbot CTS