Clan MacMillan International
News
New map of Clan MacMillan lands.
23 April 2020
A popular item at Scottish games vendors and shops selling Scottish wares are maps of clan lands. As a MacMillan it is a humbling experience to pore over one of those. Inevitably, the only mention of Clan MacMillan will be in the southwest corner of Knapdale in tiny type. In fact, on one such map "MacMillan" was in the sea adjacent to the Knapdale coastline as though we were boat people.
A page on Clan MacMillan International's website has a map of Clan MacMillan lands. The original image was created nineteen years ago as a visual aid for tent displays and a response to the above-mentioned tourist maps. This has been replaced with a larger image featuring more comprehensive content and a timeline. It is derivative of Graeme Mackenzie's books on the subject.
Clan MacMillan International has a new "official" Facebook page.
4 January 2020
With the new year Clan MacMillan International has an "official" Facebook page. Our chief George MacMillan has approved this and provided a statement:
"For some years there has existed a 'MacMillan' Facebook page, which has come to be seen as the official Clan MacMillan page. We're grateful to its founder for meeting an obvious need. But this site has never been the official Clan MacMillan Facebook page.
Recently, some of us have felt that, due to lack of regulation, postings on the site have fallen short of the high standards with which the Clan would wish to be associated.
So we're now launching an official Clan MacMillan Facebook site in the hope that Clan members and friends will enjoy using it. It will be regulated by a strong, but gentle team of moderators, who, while determined not to stifle the exchange of news and views, will discourage postings which they regard as 'inappropriate'. As to how that term is defined, we'll need to trust their collective judgment."
George MacMillan (Chief of Clan MacMillan)
We hope you will visit, join and contribute.
2020 Clan MacMillan Society of North America Gathering to be held in Calgary.
9 July 2019
The 2020 Clan MacMillan Society of North America (CMSNA) Gathering is to take place from July 15 (registration) to July 19 (departure), 2020 in Calgary. This will be the first time a CMSNA gathering has taken place in Western Canada. Calgary (named after a hamlet on the Isle of Mull) is a city of approximately 1,300,000 just east of the Canadian Rockies. In 2018, The Economist magazine ranked Calgary the fourth-most liveable city in the world.
The city and nearby environs have a lot to offer visitors. The gathering starts just three days after the Calgary Stampede ends, itself a ten-day event. We invite you to attend the "Greatest Outdoor Show on Earth "before the gathering. Provisional gathering activities include bus trips to Banff, Lake Louise and Drumheller (the Dinosaur capital).
We hope to arrange accommodation through the University of Calgary. We encourage you to bring your children or grandchildren. If enough kids attend we plan to arrange camping for people with campers, tents, etc. More details will be available on this page and the CMSNA homepage as they are established.
Commemoration of the 1719 Jacobite Rising and the Battle of Glenshiel.
12 April 2019
The Association of Highland Clans & Societies [AHCS], in collaboration with the Clan MacKenzie Society of Scotland and the UK and The 1745 Association, are organising events over the weekend of 7-9 June to commemorate the 1719 Jacobite Rising and the Battle of Glenshiel, which took place on the 10 June 1719 in Kintail. Clann 'ic 'illemhaoil Abrach (Clan MacMillan of Lochaber) fought in the battle, which the Jacobites lost, as part of Lochiel's regiment. MacMillans and their descendants are invited to attend the events in Inverness and Kintail in June. Details and a booking form can be downloaded from the AHCS website.

Tours of Eilean Donan Castle will be part of the commemoration weekend.
Clan historian and genealogist lectures in New Zealand and Australia.
12 April 2019
Clan MacMillan historian and genealogist Graeme Mackenzie and his partner Carol Morris recently returned from a six week tour in New Zealand and Australia where Graeme delivered 28 talks in 14 towns and cities covering the history of the Highlands of Scotland, the evolution of clans, and how to trace Scottish ancestors.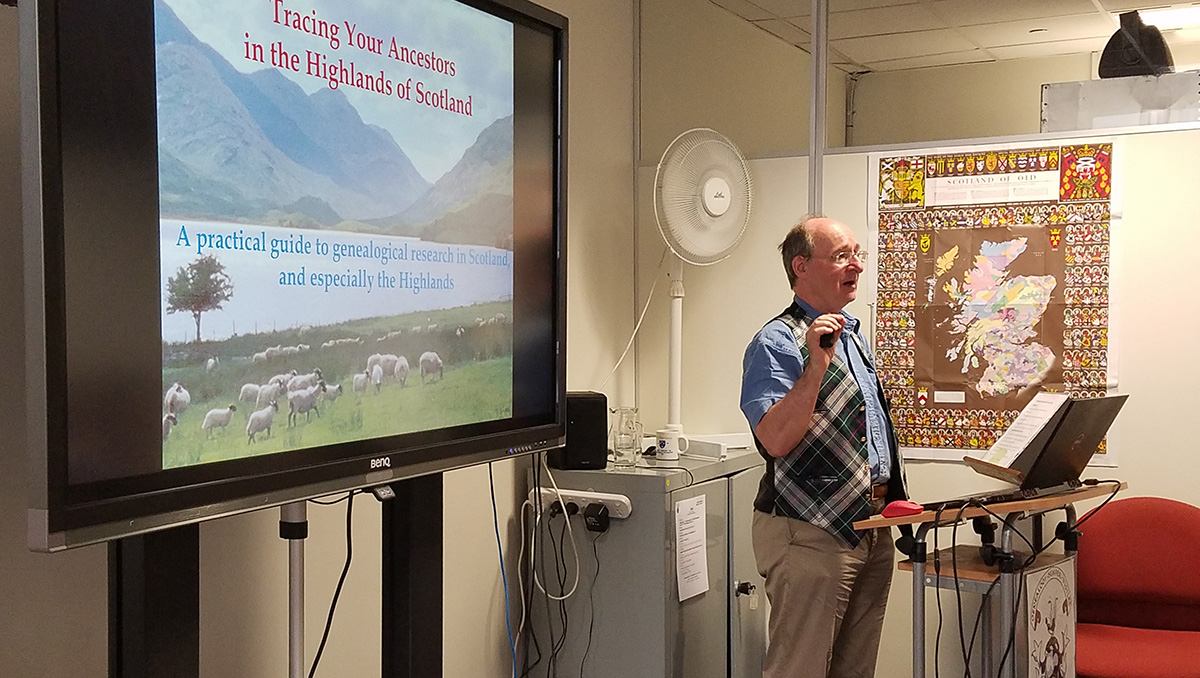 Clan MacMillan historian/genealogist Graeme Mackenzie lecturing in Melbourne to Genealogical Society of Victoria.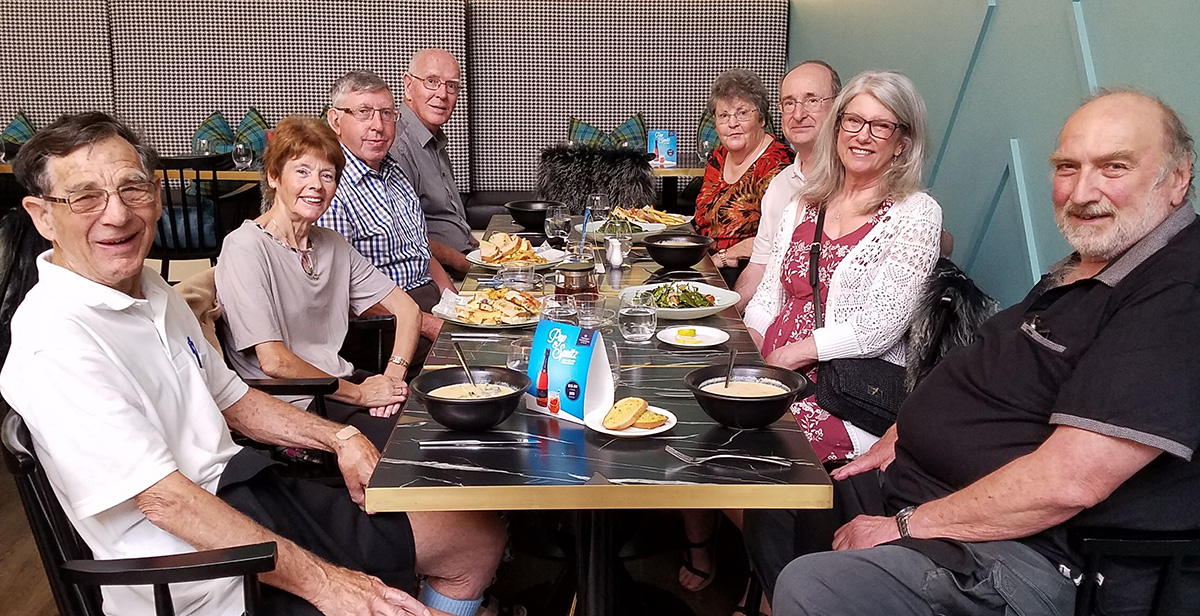 Auckland members of Clan MacMillan paused during lunch at the Naumai Hotel. Clockwise from left front: Avon McMillan, Mary and Allan Bray, Peter and Margaret Pool, Graeme Mackenzie, Carol Morris and Fred McMillan.