Invitation

to CTS from Chief George MacMillan.

As Chief and Chairman of the Trustees of the Clan Centre, as well as Patron of the Community of the Tonsured Servant (CTS), I'd like to extend a personal invitation to all MacMillans and Sept-members to consider joining this charitable community of honour, set up by the Rev. Malcolm MacMillan to support the Clan MacMillan International Centre (CMIC).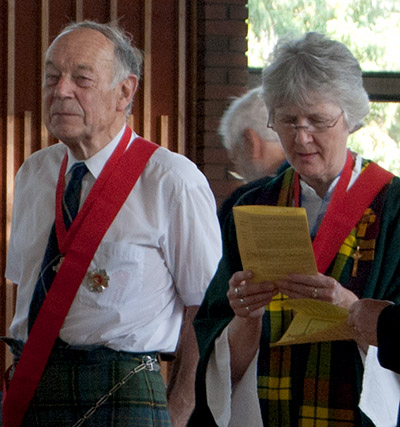 Chief George MacMillan and CTS Abbot Blanche McMillan
As you will know if you have visited the Clan Centre's pages on this website, it's purpose is to help the Chief to serve his Clan. I see my role primarily as providing a focal point for clanspeople scattered round the world, fostering a sense of identity, friendship, and understanding between members of our global family.
The Clan Centre has given me invaluable help in trying to fulfil this role in a number of ways: Through Project MAOL, which has computerised huge quantities of genealogical material (incidentally re-uniting many long lost cousins); through the publication of authoritative works on the Clan's history, along with our six-monthly magazine/newsletter; through the compilation of this widely-admired website; and in the handling of all manner of inquiries.
Though many others help me fulfil my role in the Clan, only CMIC is obliged to do so; and without the support of the Community of the Tonsured Servant, the service provided by CMIC would have ceased some years ago. So I, for one, along with many clanspeople from all round the world, have every reason to be grateful to anyone who is generous enough to seek membership of this special body within Clan MacMillan.